This kind of genotyping is based on polymorphism of microsatellites found in the genome.
GenoScreen - Services provided
Geno Sat® is a standardized solution for all kinds of eukaryotic species, simple and flexible for:
microsatellite libraries production using next-generation sequencing,
development of relevant polymorphic markers
population genotyping.
Since 2009, our solution has already been used on more than 500 different species for phylogenetic studies, biodiversity analysis or preservation programs.
Geno Sat®
Starting from 1 µg of genomic DNA per species, and based on the Illumina MiSeq high throughput sequencing technology, GenoSat® allows to obtain within 2 months bioinformatically validated primers designed on identified microsatellites flanking regions.
Geno Sat® pack
This flexible solution allows you to both biologically validate a batch of primer pairs (after in silico validation), then study polymorphism of validated primer pairs.
Geno Sat® pack +
The Geno Sat® pack + solution is our most complete offer allowing the optimization of multiplexed PCR and/or genotyping of large populations using polymorphic markers of interest.
Customized Geno Sat®
We can also perform each of the sub-steps (biological validation / polymorphism study / multiplexed PCR development / population genotyping with or without analysis) on request, including from already published markers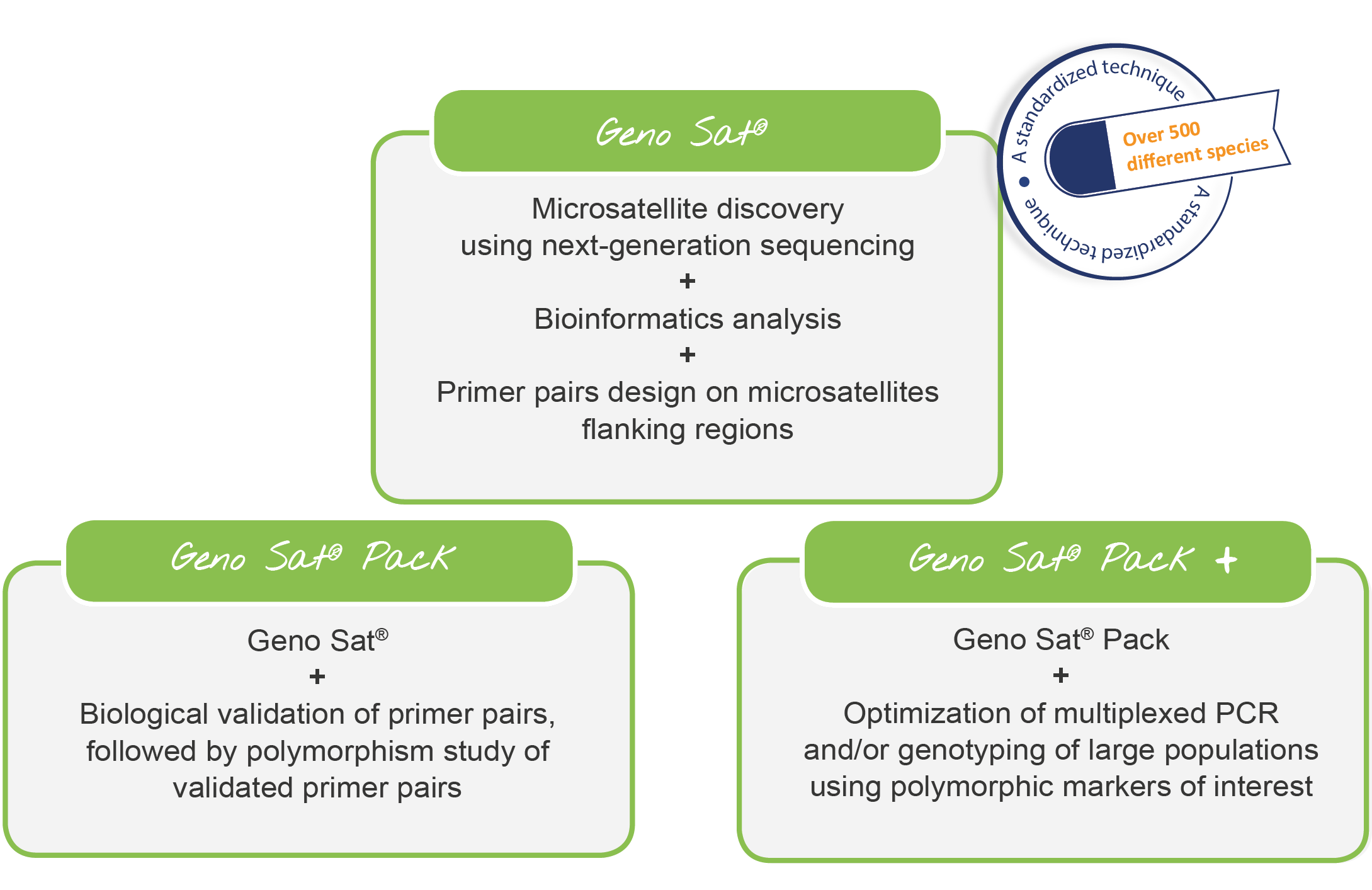 Species analysed with Geno Sat® (non-exhaustive list)
Règne / Kingdom
Classe / Class
Ordre / Order
Espèce / Species
Animalia
Actinopterygii
Acipenseriformes
Acipenser gueldenstaedtii
Animalia
Actinopterygii
Acipenseriformes
Acipenser ruthenus
Animalia
Actinopterygii
Acipenseriformes
Acipenser stellatus
Animalia
Actinopterygii
Acipenseriformes
Huso huso
Animalia
Actinopterygii
Anguilliformes
Gymnothorax chilospilus
Animalia
Actinopterygii
Batrachoidiformes
Halobatrachus didactylus
Animalia
Actinopterygii
Characiformes
Brycon insignis
Animalia
Actinopterygii
Clupeiformes
Engraulis
Animalia
Actinopterygii
Cypriniformes
Barbus barbus
Animalia
Actinopterygii
Cypriniformes
Chondrostoma nasus
Animalia
Actinopterygii
Cypriniformes
Chondrostoma toxostoma
Animalia
Actinopterygii
Cypriniformes
Gobio gobio
Animalia
Actinopterygii
Cyprinodontiformes
Aphyosemion bualanum
Animalia
Actinopterygii
Cyprinodontiformes
Chromaphyosemion splendopleure
Animalia
Actinopterygii
Perciformes
Apogon
Animalia
Actinopterygii
Perciformes
Bathygobius soporator
Animalia
Actinopterygii
Perciformes
Dissostichus eleginoides
Animalia
Actinopterygii
Perciformes
Salaria fluviatilis
Animalia
Actinopterygii
Perciformes
Siganus argenteus
Animalia
Actinopterygii
Perciformes
Sparisoma viride
Animalia
Actinopterygii
Perciformes
Sparus aurata
Animalia
Actinopterygii
Perciformes
Thunnus alalunga
Animalia
Actinopterygii
Perciformes
Tilapia
Animalia
Actinopterygii
Perciformes
Tilapia guineensis
Animalia
Actinopterygii
Perciformes
Trachurus trecae
Animalia
Actinopterygii
Pleuronectiformes
Platichthys
Animalia
Actinopterygii
Scorpaeniformes
Scorpaena porcus
Animalia
Amphibia
Anura
Agalychnis lemur
Animalia
Amphibia
Anura
Bombina variegata
Animalia
Amphibia
Anura
Bufo bufo
Animalia
Amphibia
Anura
Bufo calamita
Animalia
Amphibia
Anura
Craugastor crassidigitus
Animalia
Amphibia
Anura
Craugastor fitzingeri
Animalia
Amphibia
Anura
Dendrobates tinctorius
Animalia
Amphibia
Anura
Hyalinobatrachium valerioi
Animalia
Amphibia
Anura
Xenopus laevis
Animalia
Amphibia
Caudata
Neurergus kaiseri
Animalia
Amphibia
Urodela
Salamandra lanzai
Animalia
Amphibia
Urodela
Triturus marmoratus
Animalia
Arachnida
Ixodida
Dermacentor reticulatus
Animalia
Arachnida
Ixodida
Hyalomma aegyptium
Animalia
Arachnida
Scorpiones
Opistophthalmus pallipes
Animalia
Arachnida
Trombidiformes
Panonychus ulmi
Animalia
Ascidiacea
Phlebobranchia
Ciona intestinalis type A
Animalia
Ascidiacea
Phlebobranchia
Ciona intestinalis type B
Animalia
Ascidiacea
Stolidobranchia
Botrylloides digense
Animalia
Ascidiacea
Stolidobranchia
Pyura herdmani
Animalia
Ascidiacea
Stolidobranchia
Pyura praeputalis
Animalia
Ascidiacea
Stolidobranchia
Pyura stolonifera
Animalia
Aves
Charadriiformes
Larus
Animalia
Aves
Columbiformes
Columba malherbii
Animalia
Aves
Falconiformes
Pandion haliaetus
Animalia
Aves
Passeriformes
Estrilda astrild
Animalia
Aves
Passeriformes
Laniarius atrococcineus
Animalia
Aves
Procellariiformes
Oceanodroma monteiroi
Animalia
Bivalvia
Cardiida
Donax vittatus
Animalia
Bivalvia
Cardiida
Monodacna colorata
Animalia
Bivalvia
Pectinoida
Pecten maximus
Animalia
Bivalvia
Unionoida
Anodonta woodiana
Animalia
Bivalvia
Unionoida
Unio crassus
Animalia
Bivalvia
Veneroida
Corbicula fluminea
Animalia
Bivalvia
Veneroida
Donacilla cornea
Animalia
Branchiopoda
Anostraca
Artemia franciscana
Animalia
Branchiopoda
Anostraca
Artemia parthenogenetica
Animalia
Branchiopoda
Anostraca
Artemia urmiana
Animalia
Cephalaspidomorphi
Petromyzontiformes
Lampetra planeri
Animalia
Cephalopoda
Sepiida
Sepia officinalis
Animalia
Cestoda
Caryophillidea
Caryophyllaeus
Animalia
Cestoda
Pseudophyllidea
Diphyllobothrium dendriticum
Animalia
Cestoda
Pseudophyllidea
Diphyllobothrium dentriticum
Animalia
Cestoda
Pseudophyllidea
Diphyllobothrium latum
Animalia
Chondrichthyes
Carcharhiniformes
Carcharhinus leucas
Animalia
Chondrichthyes
Carcharhiniformes
Galeocerdo cuvier
Animalia
Chondrichthyes
Lamniformes
Carcharodon carcharias
Animalia
Chondrichthyes
Rajiformes
Amblyraja sp.
Animalia
Chondrichthyes
Rajiformes
Bathyraja meridionalis
Animalia
Chondrichthyes
Squatiniformes
Squatina squatina
Animalia
Clitellata
Opisthopora
Aporrectodea giardi
Animalia
Clitellata
Opisthopora
Aporrectodea icterica
Animalia
Clitellata
Opisthopora
Lumbricus castaneus
Animalia
Clitellata
Opisthopora
Lumbricus rubellus
Animalia
Clitellata
Opisthopora
Lumbricus terrestris
Animalia
Entognatha
Collembola
Cryptopygus antarcticus
Animalia
Entognatha
Collembola
Isotomurus maculatus
Animalia
Entognatha
Collembola
Tullbergia bisetosa
Animalia
Gastropoda
Basommatophora
Biomphalaria prona
Animalia
Gastropoda
Basommatophora
Biomphalaria schrami
Animalia
Gastropoda
Hygrophila
Drepanotrema aeruginosum
Animalia
Gastropoda
Hygrophila
Indoplanorbis exustus
Animalia
Gastropoda
Hygrophila
Lymnaea cubensis
Animalia
Gastropoda
Hygrophila
Lymnea natalensis
Animalia
Gastropoda
Littorinimorpha
Littorina saxatilis
Animalia
Gastropoda
Neogastropoda
Cyclope neritea
Animalia
Gastropoda
Stylommatophora
Cepaea hortensis
Animalia
Gastropoda
Stylommatophora
Tyrrhenaria ceratina
Animalia
Gastropoda
Vetigastropoda
Gibbula pennanti
Animalia
Holothuroidea
Aspidochirotida
Actinopyga echinites
Animalia
Holothuroidea
Aspidochirotida
Actinopyga equinites
Animalia
Hydrozoa
Anthoathecatae
Hydra oligactis
Animalia
Hydrozoa
Anthoathecatae
Millepora platyphylla
Animalia
Hydrozoa
Leptothecata
Lytocarpia brevirostris
Animalia
Hydrozoa
Leptothecata
Macrorhynchia phoenicea
Animalia
Insecta
Blattodea
Constrictotermes cavifrons
Animalia
Insecta
Blattodea
Embiratermes neotenicus
Animalia
Insecta
Blattodea
Inquilinitermes inquilinus
Animalia
Insecta
Blattodea
Isoptera
Animalia
Insecta
Blattodea
Kalotermes flavicollis
Animalia
Insecta
Blattodea
Lauraesilpha
Animalia
Insecta
Blattodea
Reticulitermes grassei/banyulensis
Animalia
Insecta
Blattodea
Silvestritermes minutus
Animalia
Insecta
Coleoptera
Abax parallelepipedus
Animalia
Insecta
Coleoptera
Aleochara bilineata
Animalia
Insecta
Coleoptera
Aleochara bipustulata
Animalia
Insecta
Coleoptera
Aphaenops cerberus
Animalia
Insecta
Coleoptera
Ceutorhynchus assimilis
Animalia
Insecta
Coleoptera
Coccinella septempunctata
Animalia
Insecta
Coleoptera
Curculio glandium
Animalia
Insecta
Coleoptera
Dendroctonus micans
Animalia
Insecta
Coleoptera
Diabrotica virgifera
Animalia
Insecta
Coleoptera
Hippodamia undecimnotata
Animalia
Insecta
Coleoptera
Larinus cynarae
Animalia
Insecta
Coleoptera
Lethrus apterus
Animalia
Insecta
Coleoptera
Lucanus cervus
Animalia
Insecta
Coleoptera
Meligethes aeneus
Animalia
Insecta
Coleoptera
Monochamus galloprovincialis
Animalia
Insecta
Coleoptera
Pissodes
Animalia
Insecta
Coleoptera
Prostephanus truncatus
Animalia
Insecta
Coleoptera
Psylliodes chrysocephala
Animalia
Insecta
Coleoptera
Pterostichus melanarius
Animalia
Insecta
Diptera
Delia radicum
Animalia
Insecta
Diptera
Episyrphus balteatus
Animalia
Insecta
Diptera
Phlebotomus
Animalia
Insecta
Diptera
Sphaerophoria scripta
Animalia
Insecta
Hemiptera
Acyrthosiphon pisum
Animalia
Insecta
Hemiptera
Acyrthosiphon svalbardicum
Animalia
Insecta
Hemiptera
Aphis gossypii
Animalia
Insecta
Hemiptera
Bemisia tabaci
Animalia
Insecta
Hemiptera
Cacopsylla pruni
Animalia
Insecta
Hemiptera
Cacopsylla pyri
Animalia
Insecta
Hemiptera
Cimex pipistrelli
Animalia
Insecta
Hemiptera
Dysaphis plantaginea
Animalia
Insecta
Hemiptera
Heliococcus bohemicus
Animalia
Insecta
Hemiptera
Leptoglossus occidentalis
Animalia
Insecta
Hemiptera
Lygaeus eguestris
Animalia
Insecta
Hemiptera
Macrolophus
Animalia
Insecta
Hemiptera
Mysus ascalonicus
Animalia
Insecta
Hemiptera
Orthops
Animalia
Insecta
Hemiptera
Parthenolecanium corni
Animalia
Insecta
Hemiptera
Phenacoccus aceris
Animalia
Insecta
Hemiptera
Phenacoccus sp Marsannay
Animalia
Insecta
Hemiptera
Phloeomyzus passerinii
Animalia
Insecta
Hemiptera
Pseudococcus comstocki
Animalia
Insecta
Hemiptera
Scaphoideus titanus
Animalia
Insecta
Hymenoptera
Acromyrmex octospinosus
Animalia
Insecta
Hymenoptera
Anthophora plumipes
Animalia
Insecta
Hymenoptera
Aphidius ervi
Animalia
Insecta
Hymenoptera
Ascogaster quadridentata
Animalia
Insecta
Hymenoptera
Baryscapus servadeii
Animalia
Insecta
Hymenoptera
Blastophaga psenes
Animalia
Insecta
Hymenoptera
Cataglyphis hispanica
Animalia
Insecta
Hymenoptera
Cataglyphis niger
Animalia
Insecta
Hymenoptera
Diaeretiella rapae
Animalia
Insecta
Hymenoptera
Habrobracon hebetor
Animalia
Insecta
Hymenoptera
Hyposoter didymator
Animalia
Insecta
Hymenoptera
Lasius niger
Animalia
Insecta
Hymenoptera
Macrocentrus cingulum
Animalia
Insecta
Hymenoptera
Mastrus
Animalia
Insecta
Hymenoptera
Megastigmus aculeatus
Animalia
Insecta
Hymenoptera
Odontomachus hastatus
Animalia
Insecta
Hymenoptera
Perilampus tristis
Animalia
Insecta
Hymenoptera
Peristenus digoneutis
Animalia
Insecta
Hymenoptera
Pristomerus vulnerator
Animalia
Insecta
Hymenoptera
Pseudaphycus flavidulus
Animalia
Insecta
Hymenoptera
Tapinoma
Animalia
Insecta
Hymenoptera
Tapinoma minutum
Animalia
Insecta
Hymenoptera
Tersilochus heterocerus
Animalia
Insecta
Hymenoptera
Tetraponera aethiops
Animalia
Insecta
Hymenoptera
Trichogramma
Animalia
Insecta
Hymenoptera
Trichogramma chilonis
Animalia
Insecta
Hymenoptera
Trichogramma evanescens
Animalia
Insecta
Hymenoptera
Trichomma enecator
Animalia
Insecta
Hymenoptera
Trissolcus halyomorphae
Animalia
Insecta
Hymenoptera
Wasmannia auropunctata
Animalia
Insecta
Lepidoptera
Brenthis ino
Animalia
Insecta
Lepidoptera
Cameraria ohridella
Animalia
Insecta
Lepidoptera
Cydalima perspectalis
Animalia
Insecta
Lepidoptera
Cydia molesta
Animalia
Insecta
Lepidoptera
Cydia pomonella
Animalia
Insecta
Lepidoptera
Heliocheilus albipunctella
Animalia
Insecta
Lepidoptera
Ostrinia nubilalis
Animalia
Insecta
Lepidoptera
Ostrinia scapulalis
Animalia
Insecta
Lepidoptera
Parnassius apollo
Animalia
Insecta
Lepidoptera
Polyommatus icarus
Animalia
Insecta
Lepidoptera
Sesamia nonagrioides
Animalia
Insecta
Lepidoptera
Spodoptera frugiperda
Animalia
Insecta
Lepidoptera
Tuta absoluta
Animalia
Insecta
Mantodea
Mantis religiosa
Animalia
Insecta
Orthoptera
Agnotecous
Animalia
Insecta
Orthoptera
Caelifera
Animalia
Insecta
Orthoptera
Chorthippus binotatus
Animalia
Insecta
Orthoptera
Ephippiger ephippiger
Animalia
Insecta
Orthoptera
Omocestus femoralis
Animalia
Insecta
Orthoptera
Pholidoptera transsylvanica
Animalia
Insecta
Phasmida
Bacillus
Animalia
Insecta
Strepsiptera
Stylopys melittae
Animalia
Malacostraca
Amphipoda
Gammarus
Animalia
Malacostraca
Amphipoda
Niphargus kochianus
Animalia
Malacostraca
Decapoda
Astacus leptodactylus
Animalia
Malacostraca
Decapoda
Hemigrapsus sanguineus
Animalia
Malacostraca
Decapoda
Hemigrapsus takonoi
Animalia
Malacostraca
Decapoda
Macrobrachium faustinum
Animalia
Malacostraca
Decapoda
Pachygrapsus marmoratus
Animalia
Malacostraca
Decapoda
Panulirus guttatus
Animalia
Malacostraca
Isopoda
Armadillidium nasatum
Animalia
Malacostraca
Isopoda
Armadillidium vulgare
Animalia
Malacostraca
Isopoda
Jaera albifrons
Animalia
Malacostraca
Isopoda
Porcellio dilatatus
Animalia
Malacostraca
Isopoda
Porcellionides pruinosus
Animalia
Mammalia
Carnivora
Martes foina
Animalia
Mammalia
Carnivora
Mungos
Animalia
Mammalia
Carnivora
Urva auropunctata
Animalia
Mammalia
Cetacea
Tursiops truncatus
Animalia
Mammalia
Cetartiodactyla
Balaenoptera physalus
Animalia
Mammalia
Cetartiodactyla
Hippotragus niger
Animalia
Mammalia
Chiroptera
Anoura geoffroyi
Animalia
Mammalia
Chiroptera
Mormopterus francoismoutoui
Animalia
Mammalia
Chiroptera
Pteronotus parnelii
Animalia
Mammalia
Lagomorpha
Lepus capensis
Animalia
Mammalia
Lagomorpha
Lepus europaeus
Animalia
Mammalia
Macroscelidea
Elephantulus myurus
Animalia
Mammalia
Macroscelidea
Rhynchocyon petersi
Animalia
Mammalia
Primates
Mandrillus sphinx
Animalia
Mammalia
Primates
Microcebus
Animalia
Mammalia
Proboscidea
Elephas lounesensis
Animalia
Mammalia
Rodentia
Acomys cilicicus
Animalia
Mammalia
Rodentia
Bandicota savilei
Animalia
Mammalia
Rodentia
Eliomys
Animalia
Mammalia
Rodentia
Georychus capensis
Animalia
Mammalia
Rodentia
Gerbilliscus leucogaster
Animalia
Mammalia
Rodentia
Micromys minutus
Animalia
Mammalia
Rodentia
Mus spretus
Animalia
Mammalia
Rodentia
Nannospalax montanosyrmiensis
Animalia
Mammalia
Rodentia
Otomys
Animalia
Mammalia
Rodentia
Rattus exulans
Animalia
Mammalia
Rodentia
Rattus tanezumi
Animalia
Mammalia
Rodentia
Rhabdomys
Animalia
Mammalia
Rodentia
Sicista subtilis
Animalia
Ophiuroidea
Ophiurida
Ophiocoma dentata
Animalia
Reptilia
Squamata
Acanthodactylus aureus
Animalia
Reptilia
Squamata
Agama boulengeri
Animalia
Reptilia
Squamata
Anguis
Animalia
Reptilia
Squamata
Archaeolacerta
Animalia
Reptilia
Squamata
Bothrops marmoratus
Animalia
Reptilia
Squamata
Bothrops matogrossensis
Animalia
Reptilia
Squamata
Bothrops pauloensis
Animalia
Reptilia
Squamata
Podarcis siculus
Animalia
Reptilia
Squamata
Podarcis tiliguerta
Animalia
Reptilia
Testudines
Chelydra serpentina
Animalia
Reptilia
Testudines
Testudo hermanni
Animalia
Secernentea
Aphelenchida
Bursaphelenchus xylophilus
Animalia
Secernentea
Oxyurida
Aspiculuris
Animalia
Secernentea
Rhabditida
Steinernema affine
Animalia
Secernentea
Strongylida
Ashworthius sidemi
Animalia
Secernentea
Strongylida
Spiculopteragia spiculoptera
Animalia
Secernentea
Tylenchida
Heterodera schachtii
Animalia
Secernentea
Tylenchida
Meloidogyne chitwoodi
Animalia
Secernentea
Tylenchida
Meloidogyne fallax
Animalia
Trematoda
Echinostomida
Fascioloides
Animalia
Trematoda
Strigeidida
Diplostomum baeri
Chromista
Dinophyceae
Gonyaulacales
Alexandrium catenella
Chromista
Dinophyceae
Gonyaulacales
Alexandrium tamarense
Chromista
Peronosporea
Peronosporales
Bremia lactucae
Chromista
Peronosporea
Peronosporales
Phytophthora alni subsp multiformis
Chromista
Peronosporea
Peronosporales
Phytophthora alni subsp uniformis
Chromista
Peronosporea
Peronosporales
Phytophthora megakarya
Chromista
Peronosporea
Peronosporales
Phytophthora palmivora
Chromista
Peronosporea
Peronosporales
Plasmopara halstedii
Chromista
Peronosporea
Peronosporales
Plasmopara viticola
Chromista
Phaeophyceae
Fucales
Sargassium
Chromista
Phaeophyceae
Fucales
Sargassum muticum
Chromista
Phaeophyceae
Fucales
Sargassum polycystum
Fungi
Agaricomycetes
Agaricales
Agaricus subrufescens
Fungi
Agaricomycetes
Agaricales
Amanita caesarea
Fungi
Dothideomycetes
Botryosphaeriales
Diplodia pinea
Fungi
Dothideomycetes
Botryosphaeriales
Microcyclus ulei
Fungi
Dothideomycetes
Capnodiales
Mycosphaerella pinodes
Fungi
Dothideomycetes
Pleosporales
Ampelomyces quisqualis
Fungi
Eurotiomycetes
Chaetothyriales
Chaetothyriale CTeY2
Fungi
Eurotiomycetes
Chaetothyriales
Chaetothyriale Pet3S2a
Fungi
Leotiomycetes
Erysiphales
Erysiphe alphitoides
Fungi
Leotiomycetes
Erysiphales
Erysiphe necator
Fungi
Leotiomycetes
Helotiales
Chalara fraxinea
Fungi
Myxomycetes
Stemonitales
Lamproderma
Fungi
Oomycetes
Saprolegniales
Aphanomyces euteiches
Fungi
Pezizomycetes
Pezizales
Morchella conica
Fungi
Saccharomycetes
Saccharomycetales
Metschnikowia gruessii
Fungi
Sordariomycetes
Glomerellales
Colletotrichum kahawae
Fungi
Sordariomycetes
Hypocreales
Beauveria
Fungi
Sordariomycetes
Hypocreales
Fusarium xylarioides
Fungi
Sordariomycetes
Xylariales
Microdochium dimerum
Plantae
Equisetopsida
Alismatales
Amphibolis antarctica
Plantae
Equisetopsida
Alismatales
Cymodocea rotundata
Plantae
Equisetopsida
Alismatales
Elodea nuttallii
Plantae
Equisetopsida
Alismatales
Halodule uninervis
Plantae
Equisetopsida
Alismatales
Halodule wrightii
Plantae
Equisetopsida
Alismatales
Halophila ovalis
Plantae
Equisetopsida
Alismatales
Posidonia sinusoa
Plantae
Equisetopsida
Alismatales
Ruppia maritima
Plantae
Equisetopsida
Alismatales
Ruppia tuberosa
Plantae
Equisetopsida
Alismatales
Syringodium filiforme
Plantae
Equisetopsida
Alismatales
Syringodium isoetifolium
Plantae
Equisetopsida
Alismatales
Thalassia hemprichii
Plantae
Equisetopsida
Alismatales
Thalassia testudinum
Plantae
Equisetopsida
Alismatales
Tofieldia
Plantae
Equisetopsida
Alismatales
Zostera muelleri
Plantae
Equisetopsida
Apiales
Crithmum maritimum
Plantae
Equisetopsida
Apiales
Daucus carota
Plantae
Equisetopsida
Apiales
Eryngium viviparum
Plantae
Equisetopsida
Apiales
Heracleum persicum
Plantae
Equisetopsida
Apiales
Kelussia odoratissima
Plantae
Equisetopsida
Apiales
Oenanthe aquatica
Plantae
Equisetopsida
Arecales
Chamaerops humilis
Plantae
Equisetopsida
Asparagales
Allium cepa
Plantae
Equisetopsida
Asparagales
Cephalanthera damasonium
Plantae
Equisetopsida
Asparagales
Gladiolus palustris Gaudin
Plantae
Equisetopsida
Asparagales
Iris chamaeiris
Plantae
Equisetopsida
Asparagales
Nerine humilis
Plantae
Equisetopsida
Asparagales
Ophrys
Plantae
Equisetopsida
Asterales
Ambrosia artemisiifolia
Plantae
Equisetopsida
Asterales
Ambrosia trifida
Plantae
Equisetopsida
Asterales
Campanula glomerata
Plantae
Equisetopsida
Asterales
Filago carpetana/gaditana
Plantae
Equisetopsida
Asterales
Leibnitzia anandria
Plantae
Equisetopsida
Asterales
Sonchus fragilis
Plantae
Equisetopsida
Asterales
Taraxacum kok-saghyz
Plantae
Equisetopsida
Brassicales
Capsella bursa-pastoris
Plantae
Equisetopsida
Brassicales
Subularia aquatica
Plantae
Equisetopsida
Brassicales
Thlaspi caerulescens
Plantae
Equisetopsida
Bryales
Bryum pseudotriquetrum
Plantae
Equisetopsida
Caryophyllales
Armeria maritima
Plantae
Equisetopsida
Caryophyllales
Atriplex tatarica
Plantae
Equisetopsida
Caryophyllales
Dianthus deltoides
Plantae
Equisetopsida
Caryophyllales
Drosera
Plantae
Equisetopsida
Caryophyllales
Lyallia kerguelensis
Plantae
Equisetopsida
Caryophyllales
Minuartia
Plantae
Equisetopsida
Caryophyllales
Rumex alpinus
Plantae
Equisetopsida
Caryophyllales
Silene dioica
Plantae
Equisetopsida
Caryophyllales
Silene nutans
Plantae
Equisetopsida
Caryophyllales
Silene vulgaris
Plantae
Equisetopsida
Cupressales
Juniperus
Plantae
Equisetopsida
Cupressales
Juniperus phoenicea
Plantae
Equisetopsida
Cupressales
Juniperus thurifera
Plantae
Equisetopsida
Cupressales
Thuja occidentalis
Plantae
Equisetopsida
Dicranales
Dicranum frutescens
Plantae
Equisetopsida
Dipsacales
Lonicera implexa
Plantae
Equisetopsida
Dipsacales
Valeriana microphylla
Plantae
Equisetopsida
Ephedrales
Ephedra fragilis
Plantae
Equisetopsida
Ericales
Androsace septentrionalis
Plantae
Equisetopsida
Ericales
Cariniana pyriformis
Plantae
Equisetopsida
Ericales
Diospyros crassifolia
Plantae
Equisetopsida
Ericales
Primula vulgaris
Plantae
Equisetopsida
Ericales
Rhododendron ferrugineum
Plantae
Equisetopsida
Fabales
Acacia gerrardii
Plantae
Equisetopsida
Fabales
Acacia harpophylla
Plantae
Equisetopsida
Fabales
Acacia puece
Plantae
Equisetopsida
Fabales
Anthyllis vulneraria
Plantae
Equisetopsida
Fabales
Lupinus polyphyllus
Plantae
Equisetopsida
Fabales
Oxytropis almaatensis
Plantae
Equisetopsida
Fabales
Vicia
Plantae
Equisetopsida
Fabales
Vicia ervilia
Plantae
Equisetopsida
Flagales
Alnus glutinosa
Plantae
Equisetopsida
Gentianales
Gentianella bohemica
Plantae
Equisetopsida
Gentianales
Nauclea diderrichii
Plantae
Equisetopsida
Gentianales
Vincetoxicum hirundinaria
Plantae
Equisetopsida
Geraniales
Erodium cicutarium
Plantae
Equisetopsida
Geraniales
Geranium robertianum
Plantae
Equisetopsida
Lamiales
Antirrhinum majus
Plantae
Equisetopsida
Lamiales
Hemimeris
Plantae
Equisetopsida
Lamiales
Lamium amplexicaule
Plantae
Equisetopsida
Lamiales
Ligustrum
Plantae
Equisetopsida
Lamiales
Linaria
Plantae
Equisetopsida
Lamiales
Linaria accitensis/aeruginea
Plantae
Equisetopsida
Lamiales
Littorella
Plantae
Equisetopsida
Lamiales
Lycopus europaeus
Plantae
Equisetopsida
Lamiales
Ocimum basilicum
Plantae
Equisetopsida
Lamiales
Odontites viscosus
Plantae
Equisetopsida
Lamiales
Orobanche ramosa type C
Plantae
Equisetopsida
Lamiales
Orobanche ramosa type T
Plantae
Equisetopsida
Lamiales
Satureja
Plantae
Equisetopsida
Lamiales
Thymus vulgaris
Plantae
Equisetopsida
Malpighiales
Barteria fistulosa
Plantae
Equisetopsida
Malpighiales
Irvingia gabonensis
Plantae
Equisetopsida
Malpighiales
Linum
Plantae
Equisetopsida
Malpighiales
Mercurialis annua
Plantae
Equisetopsida
Malpighiales
Viola arvensis
Plantae
Equisetopsida
Malpighiales
Viola calaminaria
Plantae
Equisetopsida
Malpighiales
Viola cazorlensis
Plantae
Equisetopsida
Malpighiales
Viola tricolor ssp curtisii
Plantae
Equisetopsida
Malvales
Helianthemum
Plantae
Equisetopsida
Malvales
Helianthemum squamatum
Plantae
Equisetopsida
Malvales
Tilia mexicana
Plantae
Equisetopsida
Myrtales
Epilobium hirsutum
Plantae
Equisetopsida
Myrtales
Laguncularia racemosa
Plantae
Equisetopsida
Oxalidales
Oxalis pes-caprae
Plantae
Equisetopsida
Pinales
Abies alba
Plantae
Equisetopsida
Pinales
Cedrus atlantica
Plantae
Equisetopsida
Pinales
Larix decidua
Plantae
Equisetopsida
Pinales
Pinus nigra
Plantae
Equisetopsida
Pinales
Pseudotsuga menziesii
Plantae
Equisetopsida
Poales
Alopecurus myosuroides
Plantae
Equisetopsida
Poales
Festuca eskia
Plantae
Equisetopsida
Poales
Spartina
Plantae
Equisetopsida
Polytrichales
Oligotichum hercynicum
Plantae
Equisetopsida
Proteales
Leucadendron coniferum
Plantae
Equisetopsida
Ranunculales
Helleborus foetidus
Plantae
Equisetopsida
Ranunculales
Papaver rhoeas
Plantae
Equisetopsida
Rosales
Ficus capensis
Plantae
Equisetopsida
Rosales
Ficus carica
Plantae
Equisetopsida
Rosales
Ficus nitida
Plantae
Equisetopsida
Rosales
Ficus reflexa
Plantae
Equisetopsida
Rosales
Ficus vogelli
Plantae
Equisetopsida
Rosales
Pariaetaria judaica
Plantae
Equisetopsida
Sapindales
Santiria
Plantae
Equisetopsida
Solanales
Solanum elaeagnifolium
Plantae
Equisetopsida
Welwitschiales
Welwitschia mirabilis
Plantae
Equisetopsida
Zingiberales
Maranta
Plantae
Equisetopsida
Zingiberales
Musa bukensis
Protozoa
Myxogastrea
Liceida
Tubifera ferruginosa
Protozoa
Myxogastrea
Trichiida
Trichia varia
Protozoa
Phytomyxea
Plasmodiophorida
Plasmodiophora brassicae

1 to 10 (431)