The cutaneous microbiota has become a subject of interest for the nutri-cosmetics, dermo-cosmetics and beauty industries. New products have been launched that claim to respect the skin's microbiota, as well as skincare products containing a new category of active ingredients - pre-, pro- and post-biotics - designed to protect, rebalance or maintain its equilibrium. These innovations have been made possible by significant scientific and technological advances in the study of microbiota.
The role of cutaneous microbiota in skin health and immunity
Humans host not one, but several interconnected microbiota, forming a complex, constantly evolving ecosystem. Microbiota are the microorganisms (bacteria, viruses, archaea, fungi and protists) nesting on all mucous membranes, around and within certain organs. The intestinal microbiota is the best known and most characterized. In recent years, however, research has focused on other microbiota, including that found on the skin(1). This microbiota, known as cutaneous microbiota, differs from one individual to another, like a specific biological signature.

The various functions of this cutaneous microbiota are currently being characterized. It participates in skin protection, by preventing the entry and growth of pathogens, or by contributing to the skin's immune defenses. It also modulates skin properties such as elasticity, hydration and sebum production.
An exploration of the skin microbiota: Factors affecting balance and vulnerability
Many factors disrupt the proper balance of the skin's microbiota, leaving it vulnerable. These include environmental factors (exposure to pollution, toxins, extreme temperature variations), behavioral factors (excessive washing, repeated application of unsuitable cosmetics, topical antibacterial solutions or antibiotics) and health factors (stress, intestinal health, immunodepression).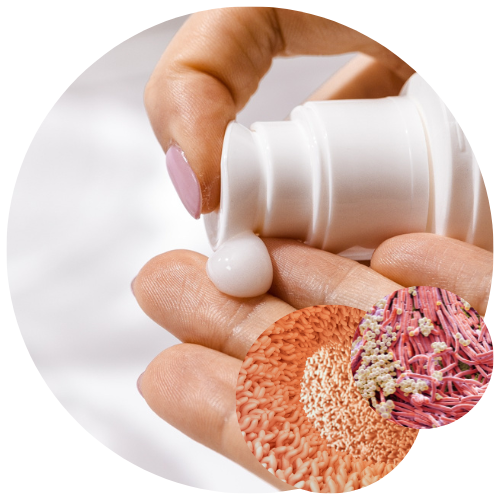 In-depth insights into genomes, transcriptomes and metabolomes
Long ignored for lack of analytical tools, microbiota have become a major research topic. Studies are multiplying to better characterize them and understand their roles within organs, organisms and environmental environments. These studies can be carried out at several levels, in particular by analyzing the genomes, transcriptomes and metabolomes of the microorganisms making up a given microbiota, known as the "microbiome"(2).
The stakes are many, both for the healthcare sector and for many other business sectors, including agri-food, the environment, ...
Microbiome-friendly cosmetics: Pioneering research and regulatory compliance in skin microbiota care
Research into skin microbiota and, more specifically, the microbiome(2) is of growing interest to the cosmetics industry. In Europe, $2.35 billion will be invested in cosmetics R&D in 2019(3). New products mention on their packaging the harmlessness of their composition to the skin's microbiota, or even the positive effects aimed at protecting, restoring or maintaining its properties. This communication also responds to consumers' insistent demand for non-toxic cosmetics.
Industry players, whether developers or manufacturers, are seeking to identify and confirm the effects of their dermo- or nutri-cosmetic products on the skin's microbiota. From a regulatory point of view, the claimed effects, like the safety of the compositions, must be demonstrated. Thus, on the European market, pre-clinical and clinical studies must prove the claims made by cosmetic products(4) to enable the display of mentions or certifications such as "microbiome-friendly" or "respectful of the cutaneous microbiome". At present, however, the choice of analysis methods is left to the discretion of manufacturers and research consultancies in the sector.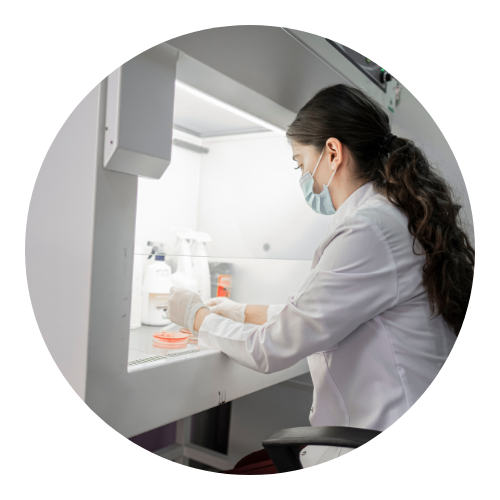 GenoScreen: Empowering skin care innovations with cutting-edge microbiome analysis
Players in the fields of dermo-cosmetics, nutri-cosmetics and skin beauty need to rely on scientific studies to develop and validate their claims. In this respect, sequencing and genomic and metagenomic analysis of the skin microbiome have become increasingly essential analyses for product development and validation. In this context, GenoScreen is recognized as a key player.
GenoScreen's offering is distinguished by its comprehensive approach, from sample preparation to interpretation of analysis results, including :
Support throughout the study: from defining the need to interpreting the results, including finalizing the study design
Standardized skin sample collection protocol
Sample preparation and sequencing according to a protocol adapted to the skin microbiome
Bioinformatics analysis using proprietary pipelines dedicated to the analysis of cutaneous microbial communities
Interpretation of results to provide clear, actionable answers
Find out more about our applications and projects.
This email address is being protected from spambots. You need JavaScript enabled to view it.
___
(1) Review definition Byrd et al., 2018 - Nat Rev Microbiol
(2) Review definition Berg et al., 2020 - Microbiome
(3) Cosmeticobs, article of October 17, 2019 on the occasion of the 2019 Skin Microbiome Congress: from research to cosmetic innovation.
(4) Regulatory texts on health claims for cosmetic products:
European Directive 2005/29/EC on unfair commercial practices
Directive 2006/114/EC on misleading and comparative advertising.
Article 20 of Regulation n°1223/2009 (all claims must be substantiated, list of authorized preservatives not harmful to the microbiota),
Regulation n°655/2013 (list of criteria for claims that may appear on cosmetic product labels)
"Technical document on cosmetic claims" of July 2017 (repeats and illustrates the 2013 regulation).
ISO 11930